12 Sep 2023 - News
Turmeric Unveiled: Mastering 5 Remedies for Mind and Body
Turmeric, the golden spice of India, has transcended its culinary role to become a wellness superstar. Its vibrant hue, derived from the compound curcumin, not only adds flavor to dishes but also boasts a treasure trove of health benefits. In this comprehensive guide, we explore the many facets of turmeric and unveil five remedies for both mind and body that showcase its remarkable healing properties.
Unlocking the Power of Turmeric
Turmeric, scientifically known as Curcuma longa, has been a staple in Ayurvedic and traditional medicine for centuries. Its active component, curcumin, possesses potent anti-inflammatory and antioxidant properties, making it a powerful ally in the quest for holistic well-being. Let's delve into the five remarkable remedies where turmeric shines.
1. A Soothing Elixir: Turmeric Tea
Turmeric tea, often referred to as "golden milk" or "turmeric latte," is a delightful concoction that combines the goodness of turmeric with other warming spices like black pepper, cinnamon, and ginger. This aromatic blend not only tantalizes the taste buds but also offers a multitude of benefits.
Benefits:
- Anti-Inflammatory: Curcumin reduces inflammation, making it an excellent remedy for joint pain and arthritis.
- Antioxidant: Turmeric's antioxidant properties combat free radicals, promoting skin health and a youthful appearance.
- Digestive Aid: It aids in digestion, alleviating bloating and discomfort.
- Stress Reduction: Turmeric tea has a calming effect, reducing stress and anxiety.
2. The Healing Touch: Turmeric Face Masks
Turmeric's antibacterial and anti-inflammatory properties make it a star ingredient in skincare. Crafting homemade face masks with turmeric can transform your skin.
Benefits:
- Acne Fighter: Turmeric's antibacterial properties combat acne, reducing breakouts and blemishes.
- Glowing Skin: It brightens the complexion, leaving your skin radiant and refreshed.
- Wound Healing: Turmeric promotes faster wound healing and minimizes scarring.
- Anti-Aging: Its antioxidants fight signs of aging, reducing fine lines and wrinkles.
3. The Spice of Life: Turmeric in Cooking
Integrating turmeric into your daily meals is not only delicious, but also incredibly healthy. From curries to soups and roasted vegetables, this spice adds a burst of flavor and nutrition.
Benefits:
- Anti-Inflammatory Diet: Regular consumption of turmeric can reduce chronic inflammation, benefitting overall health.
- Digestive Health: It aids in digestion, preventing indigestion and heartburn.
- Weight Management: Turmeric may assist in weight loss by increasing metabolism.
- Enhanced Immunity: The spice boosts immunity, protecting against infections.
4. Aches and Pains: Turmeric Supplements
For those seeking a more concentrated form of turmeric's benefits, supplements are an option. Turmeric capsules or powders provide a convenient way to incorporate this powerhouse spice into your daily routine. IMPORTANT: before incorporating herbs into your diet, it's recommended to consult with a Doctor or an Ayurvedic Practitioner.
Benefits:
- Pain Relief: Turmeric supplements can help alleviate chronic pain conditions.
- Heart Health: They may reduce the risk of heart disease by improving cholesterol levels.
- Brain Health: Curcumin supports brain health and may reduce the risk of neurodegenerative diseases.
- Arthritis Management: Turmeric supplements offer relief to arthritis sufferers.
5. Mindful Meditation: Turmeric for Mental Health
Beyond its physical benefits, turmeric also plays a significant role in mental well-being. Incorporating turmeric into your daily routine can have a profound impact on your mood and cognitive function.
Benefits:
- Stress Reduction: Turmeric's anti-inflammatory properties extend to the brain, reducing stress and anxiety.
- Memory Enhancement: It may improve memory and cognitive function, enhancing mental clarity.
- Mood Regulation: Curcumin can help regulate mood swings and depression.
In conclusion, turmeric is not merely a spice; it's a holistic remedy for the body and mind. Whether sipped as a comforting tea, applied as a nourishing face mask, savored in culinary creations, or taken as supplements, the benefits of turmeric are vast and undeniable.
Incorporate this golden treasure into your daily life, and you'll soon experience its transformative effects. Remember, nature's wisdom often holds the key to our well-being, and turmeric is a shining example of that wisdom.
One popular way to incorporate turmeric into your daily routine is by making Golden Milk, which is especially beneficial for lung health. Here's a simple recipe
Christianne Madrazo. Certified Ayurvedic Practitioner, graduate of Mount Madonna Institute, College of Ayurveda in California, and student of Dr. Vasant Lad, one of the world's foremost experts in Ayurveda.
AyurVida Wellness and Clinic is located in Mission Hills, San Diego, CA.
FOR ASSISTANCE TEXT 619-637-0201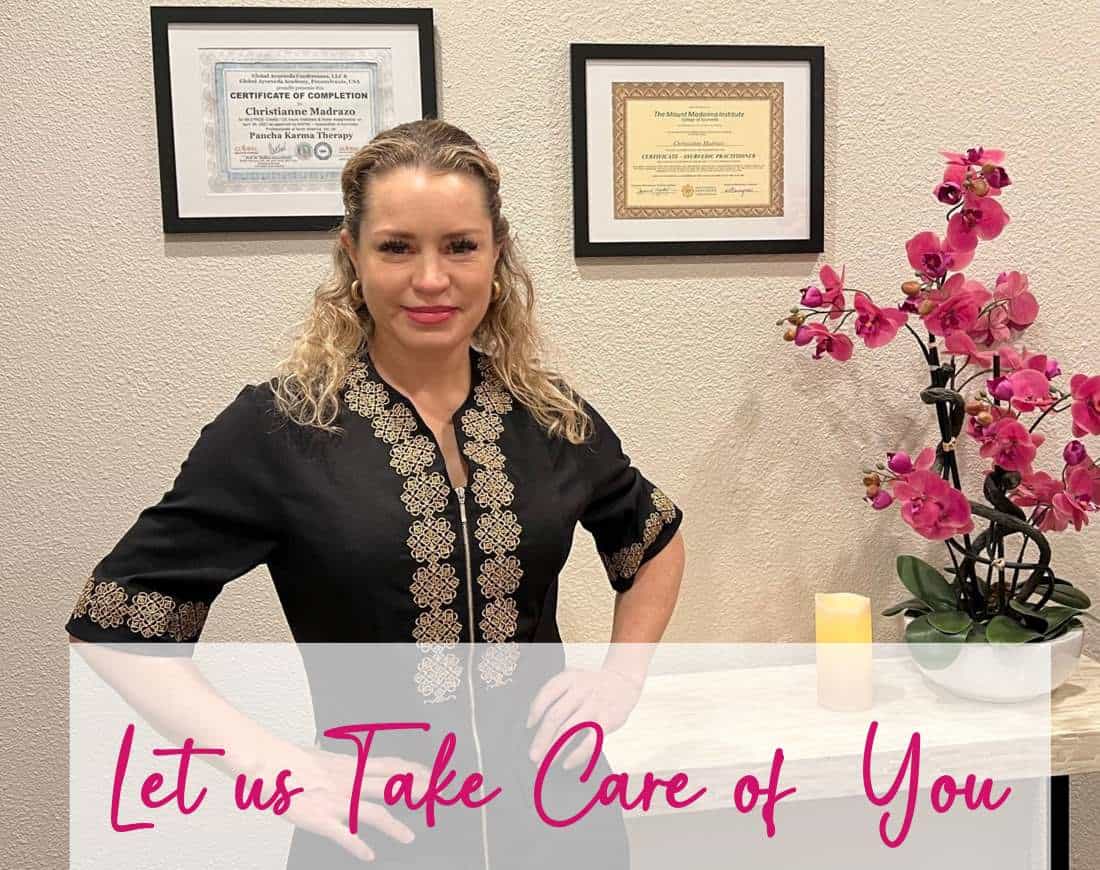 CONTACT US
PHONE:
619-291-6614
For immediate assistance:
TEXT 619-637-0201
ADDRESS:
1611 West Lewis San Diego CA 92103
↑