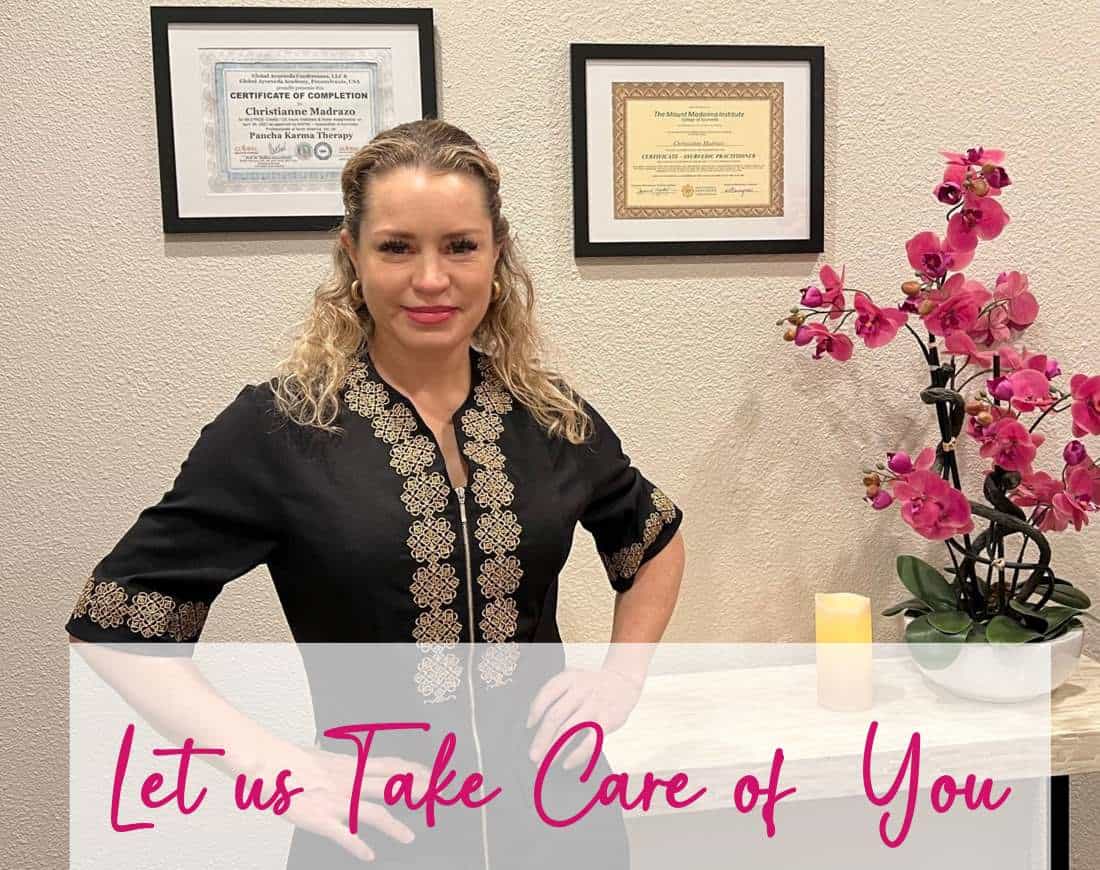 Ayurveda Energy Healing in San Diego.
My name is Christianne Madrazo. I'm Certified Ayurvedic Practitioner, graduate of Mount Madonna Institute, College of Ayurveda and student of Dr. Vasant Lad, one of the world's foremost experts in Ayurveda.
At our Ayurvedic Clinic, we understand the importance of energy healing, which encompasses the mind, body, and spirit. Our skilled healers are trained in traditional Ayurvedic techniques, which have been used for centuries to promote healing and balance.
Let's take a closer look at some of the Energy Healing Ayurvedic treatments we offer:
Marma Therapy: $125 | 60 MIN
Marma points are vital energy points in the body that correspond to various organs and systems. In Marma Therapy, our healers use gentle pressure and specific techniques to stimulate these points, helping to release blockages and restore energy flow. This therapy is known for its ability to improve circulation, reduce pain, and promote overall vitality.
Abhyanga: $125 | 60 MIN
Ayurvedic massage that uses warm, herb-infused oils to nourish the skin and promote deep relaxation. Our skilled therapists use long, sweeping motions to stimulate the flow of energy in the body, helping to release tension, detoxify the tissues, and promote a sense of calm and well-being.
Holistic Harmony Massage for Body, Mind and Soul: $120 | 60 MIN. OR $180 | 90 MIN
Promoting relaxation, reducing tension and restoring balance to the body and mind. Whether you are seeking relief from chronic pain, stress, or simply want to indulge in a luxurious spa experience, we can customize a massage that meets your needs.
Chakra Balancing Treatment: $125 | 60 MIN
The chakras are spinning wheels of energy that correspond to different aspects of our physical, emotional, and spiritual selves. When these energy centers are balanced, we experience optimal health and well-being. Our Chakra Balancing Treatment involves techniques such as meditation, visualization, and energy healing to balance and align the chakras, helping to promote harmony and vitality on all levels. For more information about CHAKRAS AND AYURVEDA please click here!
In addition to our Ayurvedic treatments, we also offer the soothing and healing practice of Singing Bowl therapy as an optional addition to our massage therapies.
Our complimentary Singing Bowl therapy is a potent modality that utilizes the resonant tones of metal bowls to encourage relaxation, balance, and healing.
We are committed to providing the highest quality holistic healing services to our clients. Our team is passionate about helping you achieve optimal health and well-being through natural and time-tested methods. Whether you're seeking relief from physical pain, emotional stress, or simply looking to enhance your vitality, our holistic healing approach can support you on your journey to wellness.
Experience Energy Healing in San Diego with AyurVida Wellness!
Contact us today to schedule an appointment and encounter the transformative power of Ayurvedic treatments such as Marma Therapy, Abhyanga, and Chakra Balancing Treatment.
For any questions about the process, please text 619-637-0201, and we will be happy to assist you.