AYURVEDIC CONSULTATION IN SAN DIEGO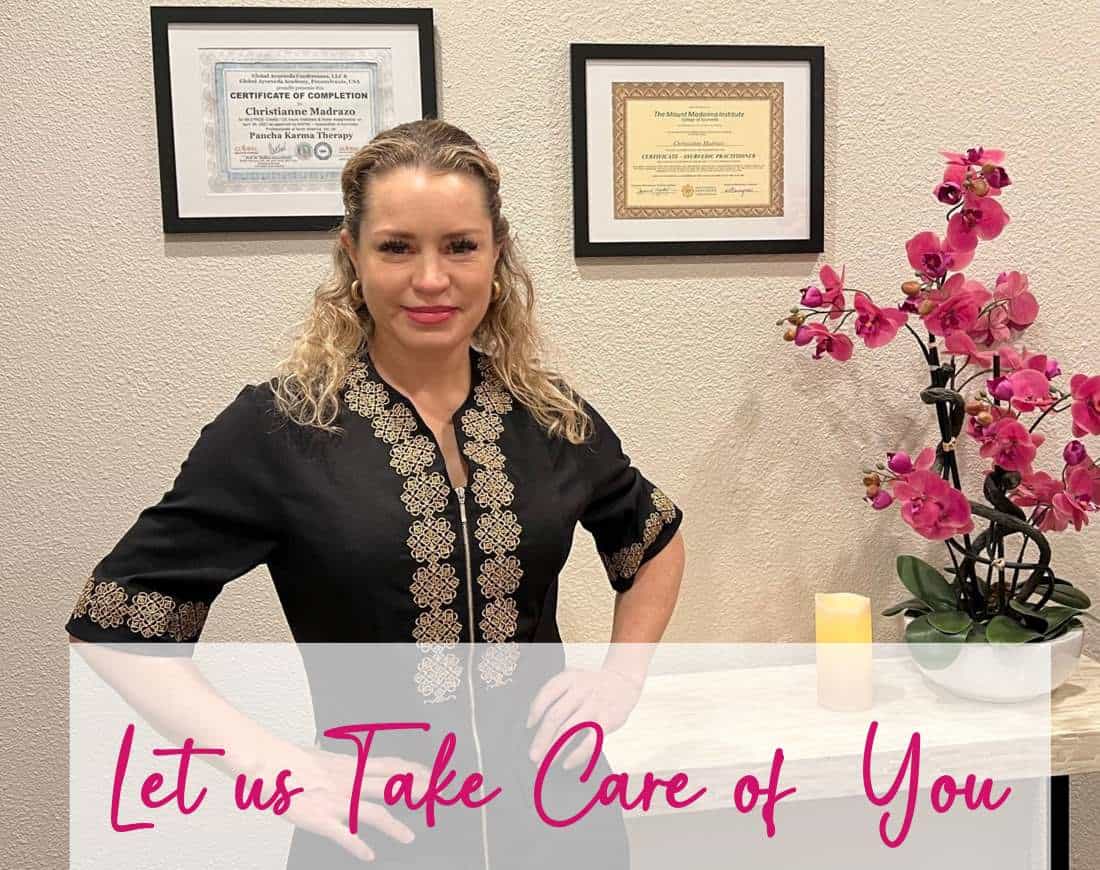 Christianne Madrazo: Certified Ayurvedic Practitioner, graduate of Mount Madonna Institute, College of Ayurveda and student of Dr. Vasant Lad, one of the world's foremost experts in Ayurveda.
I can assist in promoting your health and wellness through the principles of Ayurveda. By identifying the root cause of your ailment, I can suggest modifications to your diet, lifestyle, and the use of herbal supplements.
Ayurveda emphasizes the importance of understanding your unique body-mind constitution to create a personalized self-care and nutritional plan, which can help you maintain good health throughout your life.
Ayurveda, which means "the science of life," aims to assist healthy individuals in maintaining good health and supporting those who are sick in regaining optimal health. By incorporating Ayurvedic principles into your health routine, you can enhance your physical, mental, and emotional well-being.
Health benefits of Ayurveda:
• Reduces stress.
• Weight Loss or Maintenance.
• Hormonal Balance.
• Minimizes Inflammation.
• Reduce Symptoms of Illness & Disease.
• Overall Balance.
• Regulate Bloating.
Ayurvedic Consultation includes
During your first meeting I will use traditional Ayurvedic diagnostic techniques such as pulse and tongue examination and a general physical exam to determine your personal constitution and any imbalances that need to be addressed.
Based on this assessment, I will provide you with a comprehensive treatment plan that includes recommendations for diet, herbal medicines, and external Ayurvedic therapies that will help to rejuvenate, restore and maintain your personal balance. Additionally, I will also explain the fundamental of Ayurvedic lifestyle, which will empower you to maintain balance in your body and mind.
Consultation price does not include any herbs or supplements.
1 Full Consultation + 2 Follow-ups
$270 (instead of $330)
Full Ayurvedic Consultation
(90 min) $150
Follow-up
(up to 45 min) $90
For any questions about the process, please text 619-637-0201, and I will be happy to assist you
To schedule an Ayurvedic Consultation with Christianne, you can use the form at the bottom or click on the 'BOOK NOW' banner.

ADDITIONAL SERVICES: For information about our Ayurvedic Treatments, please click here.
AYURVEDA HEALTH SAVINGS ACCOUNTS
Health Savings Accounts (HSAs) allow you to establish a tax-deductible account to cover medical expenses that are not covered by your health insurance. These expenses can include your deductible, as well as other medical costs such as dental and eyeglasses. However, many people may not be aware that HSA funds can be used to pay for a wide range of medical services, as long as they are related to the treatment or prevention of a specific health condition.
This can include alternative medical services such as biofeedback, naturopathy, Ayurvedic medicine, aromatherapy, magnetic healing, reflexology, and more.
Since withdrawals from an HSA for medical expenses are tax-free, individuals with an HSA can utilize it to cover alternative medical expenses and receive a tax write-off.
REQUEST TO SCHEDULE YOUR CONSULTATION